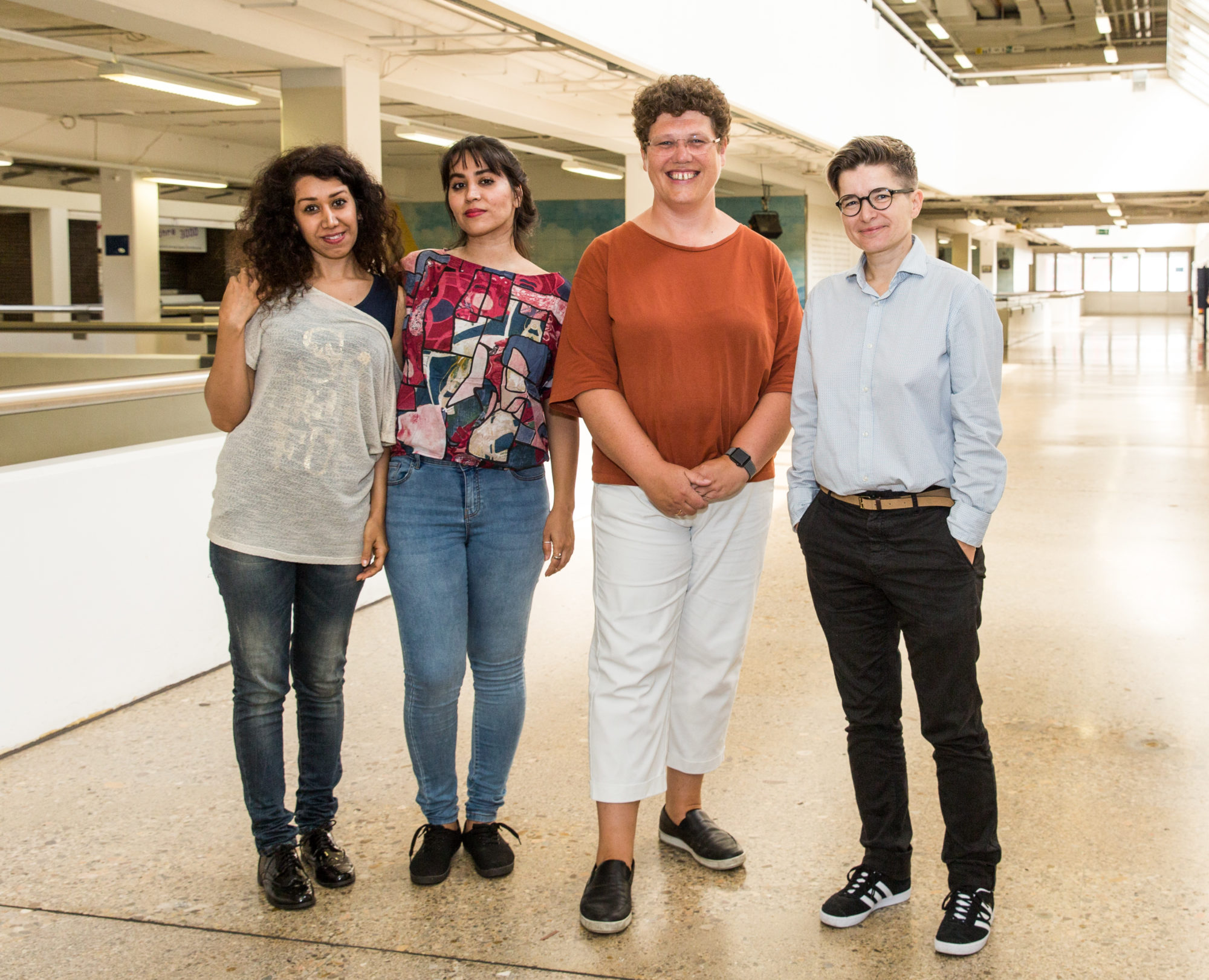 Solidarity Matters
11. March 2019
Bild: Queer Base, visiting Andrea Braidt, Vice Rector of the Academy of Fine Arts
Photo: Viktor Brázdil © Academy of Fine Arts Vienna
Pride Month is drawing to a close, and we can look back on an intense year. The intensity comes not only from the incomprehensible, negative decisions on asylum, but also applies to the exhilaration upon realizing how much solidarity there is with our work.
This includes not only the many individuals with and without the experience of forced migration who have become involved, supported us and shared their knowledge, but also donors, such as the charity auction put on by the Academy of Fine Arts, who embellished our Pride Month with €15,000.
On June 28, the LGBTIQ community commemorates the 1969 Stonewall Riots, which created a new sense of collective struggle in the shared battle against transphobia and homophobia. The guests at the Stonewall Inn, who defended themselves against police repression, comprised groups that experienced multiple-marginalization in New York City. In the State of New York, it was illegal to serve alcohol to homosexuals, and individuals were forced to wear three articles of clothing appropriate to their gender. The goal of the police raid was—as it remains today—to deny people access to collective spaces, to criminalize them, and make them illegal on the basis of their poverty, their gender performance, their sexual orientation, and their skin color.
Nearly fifty years have passed since this night, and Queer Base stands in solidarity with LGBTIQ who are forced to leave their countries in order to save their lives. Together with LGBTIQ refugees, we are ready to fight for our rights; against the growing illegalization of refugees, the cynicism that has taken hold of state structures, and the fear-based dehumanizing of our society. We demand what the generations before us have achieved in the face of the Holocaust: the right to have rights, and the right to apply for asylum. The Geneva Convention has been ratified by 147 states, including Austria, and in every single one of these countries, it must be possible to apply for asylum. Only now, Austria and Europe are claiming that they are not responsible and in doing so, neglect the foundations on which the peace project Europe was built.
The access to rights has become clearly more difficult and vulnerable groups, in particular, are losing the ground under their feet, which they have just gained. To have someone at your side, to know your rights, and to defend them together are essential conditions for acquiring the life-saving recognition as a refugee. For that reason, Queer Base has decided to fund a part-time position for legal advice as of July, to support the voluntary Legal Advice Team. The donation from the Academy of Fine Arts will help in financing the costs. Should legal support also be an issue that you care about, then please support the work of our legal advice team under the key word: Legal Advice
We also welcome small and recurring donations!
Account holder: Queer Base
IBAN: AT181400003010980720
BIC: BAWAATWW
This post is also available in: Deutsch (German)